CBD Oil and Moisturizing Balm from Northeast Kingdom Hemp!
Many thanks to the Northeast Kingdom Hemp family farm, who produces high-quality, organically grown and carefully processed CBD products!  I offer discounted prices online, or contact me to purchase in-person at the Silvie Lockerova Healing office.  I only sell what I believe in, and I hope you enjoy the results.
Shipping Note:  A flat $3.00 ground shipping (USPS) charge applies to all products and quantities for orders shipped to the 48 states in US.  No orders to other locations at this time.  Contact me by text or email for in-person purchases, or if you need an expedited shipping option.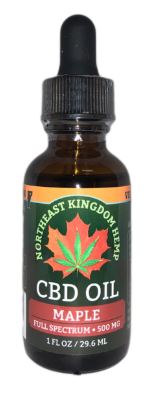 CBD Oil (tincture, maple flavor, Full Spectrum, 500mg)
Click here to view CBD test certificate
CBD oil is known for having many health benefits.  It is specifically good for calming stress and anxiety, as well as improving sleep.
Price:  $54 (6.25% MA sales tax applies)
Weight: 4.6 oz
Size: 1.25 x 1.25 x 4 in
Concentration per mL:  ~16.67 mg/mL
Dosage per bottle:  500 mg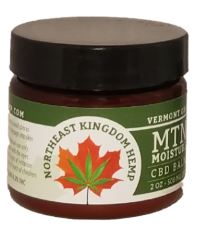 Mountain Moisture CBD Balm
This 2 ounce balm with 500 mg of CBD has a blend of ginger, marjoram, peppermint and wintergreen essential oils known for aiding in the relief of aches and pains as well as calming stress and anxiety.
Price:   $63 (6.25% MA sales tax applies)Weight: 2.3 oz
Size: 1.25 x 2 x 2 in
Concentration per mL:  ~8 mg/mL
Dosage per bottle:  500 mg
Here is a testimonial on CBD oil, from my husband who really never presented himself as an anxious person:
"As an engineer in industry, I am familiar with high stress on a daily basis.  I managed to quit TV and mass media (for the most part), but stress still came from all the usual places.  My wife suggested the CBD tincture to try out, and I decided to do it to see if there could be any noticeable effect.  I'm not a doctor, so I can only explain it in simple terms – after taking a single tincture in the morning, I felt much more grounded immediately.  A lot of the daily "noise" that I think about throughout the day went away (things like figuring when to take the car to the mechanic, if I need to buy food on the way home, if I'm doing my job right… etc.)  I was simply able to take the most important thing in front of me and get it done.  I kept taking the morning tincture daily, and the effect continues as normal.  I didn't notice any highs or lows, it was just a very good centering method for an otherwise disorganized lifestyle.
Also, my sleeping habits improved dramatically.  I am usually a night owl, staying up late to watch movies or study something new.  Since I have to wake up early to drive to work every day, I was constantly losing sleep.  The CBD oil centered me enough to start going to bed at a normal time, and finally give up those extra things that only served to drain my energy.  I don't have to explain the benefits of getting more sleep.
With a more centered focus and better sleep, my anxiety practically disappeared in a week.  I finally felt like I regained control over my life and job, and I finally started taking ambitious steps to improve my life where I was previously too exhausted to try."
See this video that gives a quick intro to their business and process:
* * * * * *
Medical Disclaimer
The information on this site is not intended or implied to be a substitute for professional medical advice, diagnosis or treatment. All content, including text, graphics, images and information, contained on or available through this web site is for general information purposes only. I encourage you to confirm any information obtained from or through this website with other sources, and review all information regarding any medical condition or treatment with your physician. NEVER DISREGARD PROFESSIONAL MEDICAL ADVICE OR DELAY SEEKING MEDICAL TREATMENT BECAUSE OF SOMETHING YOU HAVE READ ON OR ACCESSED THROUGH THIS WEB SITE.